Valentia Alleyne is the Managing Attorney of The Alleyne Law Firm. Attorney Alleyne is devoted to providing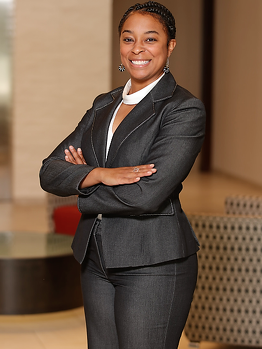 dependable service and quality legal representation, while still being sensitive to the delicate nature of estate planning, probate, and bankruptcy cases. Her estate planning practice focuses on tax planning, elder care planning, and drafting documents such as wills, trusts, and powers of attorney that accurately reflects a client's long-term life plan while protecting the client's assets. Attorney Alleyne's bankruptcy practice aids debtors in finding relief through Chapter 7 or Chapter 13 options and can also assist clients with a credit education program to ensure that clients retain the sort of credit they need to resume their life plan.
Giving back to the community is essential for an attorney, and Attorney Alleyne regularly volunteers her legal services to low-income clients through community organizations. While attending law school, she was a law clerk with the Illinois Attorney General's Office, Cook County State's Attorney, and the Iowa Civil Rights Commission, and served as an editor of Loyola's Public Interest Law Reporter. Prior to practicing law and founding The Alleyne Law Firm, Attorney Alleyne worked as a marketing and business development executive in the corporate sector for over 15 years.
Education:
Northwestern University School of Law (LLM in Taxation, 2011)
Loyola University Chicago School of Law (JD; Certificate in Taxation, 2010)
University of Phoenix (MBA, Marketing, 2004)
University of Virginia (BA, Foreign Affairs, 1995)
Bar Admissions:
Georgia
Court of Appeals of Georgia
Supreme Court of Georgia
U.S. District Court Northern District of Georgia
U.S. District Court Middle District of Georgia
U.S. Supreme Court
Speaking Engagements:
Smart Money Moves: Making Money Investments and Wills, Delta Sigma Theta Sorority, Inc., Atlanta Suburban Alumnae Chapter (2022)

Leveraging Your Strengths to Strategically Navigate Your Career, Georgia State Universty College of Law (2018)

Solo Practitioner Boot Camp, John Marshall Law School (2016, 2013)

Estate Planning and Wealth Preservation Planning, McFadden, White, Sprattlin and Davis, LLC (2014)
Legal Organizations and Memberships:
Georgia Association for Women Lawyers: Immediate Past President (2023 - Present); President (2022 - 2023); President-Elect (2021 - 2022); Representative-At-Large (2020 - 2021); Secretary (2019 - 2020); Representative-At-Large (2018 - 2019); Strategic Partnerships Committee, Vice President (2015 -2018), Co-Chair (2014 - 2015); and Membership Committee, Chair (2013 - 2014)
Dekalb Volunteer Lawyer Foundation, Advisory Board Member (2021 - 2022)
Multi-Bar Leadership Council, Chair (2018 - 2019)
Committee to Promote Inclusion in the Profession, GAWL Representative (2018 - 2019)
Atlanta Bar Association, Membership Committee (2013 - 2014)
Georgia Association of Black Women Attorneys
Metro Atlanta Association of Consumer Bankruptcy Attorneys
National Association of Consumer Bankruptcy Attorneys
State Bar of Georgia
Profesional Organizations:
Delta Sigma Theta Sorority, Incorporated, Atlanta Suburban Alumnae Chapter, Executive Committe; Southern RegionTechnology Committee, Member
Purpose International Academy, Board Member (2015 - 2016)
The ABLE Group, a 501(c)(3), Co-Founder